Last updated on November 13th, 2023
Bet $5 Get $150
Play Now
FanDuel NJ Sportsbook Review
---
Large sports markets
Has a mobile app
Friendly user experience
Lots of banking options
VIP program isn't open to everyone
Customer support is sometimes slow
---
Overview
---
Game offerings:

4.8

Software:

4.0

Security:

4.7

Deposit / Withdrawal:

4.8
FanDuel Sportsbook is a leading name in NJ sports markets, renowned for its comprehensive array of betting options covering over 15 national and international sports markets. FanDuel is widely celebrated for its flexibility and prompt payouts. Whether you're a seasoned bettor or a newcomer, this sportsbook offers a diverse range of betting choices, ensuring it caters to the preferences of all types of enthusiasts. With a $150 welcome bonus when you bet $5, new players are offered a risk-free chance to bet on their favourite games.
There is more than meets the eye about the FanDuel Sportsbook NJ app, and in this review, we will be going into details on what this operator has to offer and how you can start betting.
How to Start Betting on FanDuel Sportsbook in New Jersey
To start betting on your favorite team or event on FanDuel, you will need to sign up first. To do this, take the following steps.
Head to the website.
Click the "Join." button at the top right corner
Enter your email, username, and password, and press "Create account."
After this, follow the prompt by adding personal details such as your legal name, DOB, address, and the last four digits of your SSN.
Press continue to submit your details.
After creating the account, a confirmation email will be sent to you. Click the link to verify your mail and complete the registration. Note that the website has geo-locating software and might prevent registration if you are using a VPN. To prevent this from happening, turn off all VPNs before registration.
Is FanDuel NJ Sportsbook New User-Friendly
For newcomers in sports betting, FanDuel's New Jersey Sportsbook is an ideal choice. One unique feature that shows this is its "Sports Betting 101" section – a valuable resource that serves as a comprehensive introduction to sports wagering. Here, players are guided through the intricacies of betting options, enabling them to make the most of all available features.
In addition to detailed explanations, the platform offers video guides, making the learning process not just informative but also incredibly user-friendly. With FanDuel, new users can embark on their sports betting journey with confidence, armed with the knowledge and tools they need to make informed wagers and enjoy a seamless experience.
FanDuel Sportsbook Mobile App
Unlike FanDuel Casino, where you can sign in and play whenever you want, sports bettors often require a more hands-on approach, especially since most sporting events are time-based. While the FanDuel website is designed to be mobile-friendly, allowing you to place wagers on various sports with ease, FanDuel goes a step further by offering a dedicated mobile app for enhanced accessibility.
Downloading FanDuel App on Android
If you're an Android user, you can easily download and install the FanDuel Sportsbook app on your smartphone, tablet, or even Chromebook without sacrificing functionality. Here's a step-by-step guide:
Head to the Google Play Store: Open the Google Play Store on your Android device. You can access the Play Store from your home screen or app drawer.
Search for "FanDuel Sportsbook & Casino": In the Google Play Store's search bar, type "FanDuel Sportsbook & Casino" and hit the search button.
Click the "Download" button: Once you've located the FanDuel app, click the "Download" button next to it. This will begin the download and installation process.
Sign into your account and start betting: After the installation is complete, open the app and sign in to your FanDuel account. You can then start placing bets on your favorite sports, all from the convenience of your Android device.
Downloading FanDuel Mobile iOS App
For iOS users, the process is just as straightforward. Here's how to download the FanDuel Sportsbook app on your iOS device:
Go to the App Store: Access the App Store on your iOS device. You can find the App Store icon on your home screen.
Search for "FanDuel Sportsbook & Casino": In the App Store's search bar, enter "FanDuel Sportsbook & Casino" and initiate the search.
Download the App: Once you've located the FanDuel app, tap the "Download" button to initiate the installation process.
Get Started: After the app has finished downloading, open it, and you'll be prompted to sign in to your FanDuel account. Once logged in, you can enjoy the full range of sports betting options FanDuel offers on your iOS device.
With the FanDuel Sportsbook mobile app, you'll have the power to bet on your favorite sports and teams, access live betting options, and stay up to date with the latest odds and game outcomes, all conveniently at your fingertips. Whether you're using an Android or iOS device, FanDuel ensures that you can enjoy a seamless and immersive sports betting experience on the go.
Mobile Compatibility
FanDuel's mobile app is designed with user convenience in mind. It boasts a lightweight design that ensures ease of use without burdening your device with excessive storage demands. This means it will only consume a small amount of space on your phone, leaving you with more room for what matters most.
In terms of compatibility, FanDuel covers a wide range of devices. The Android app is compatible with smartphones running Android 5 or higher, ensuring a broad user base can access and enjoy the app. For iOS enthusiasts, the app is available for devices with iOS 13 and later. This means that a wide spectrum of Apple devices, from iPhone 6S to the latest iPhone 15, can effortlessly download and use the FanDuel app, ensuring that it's accessible to a wide array of users, regardless of their device preference.
FanDuel New Player Bonus
Embarking on your FanDuel Sportsbook journey as a new player is a rewarding experience, with a fantastic $150 sportsbook bonus bet awaiting you. To unlock this generous bonus, all you need to do is make a minimum deposit of just $10 and place a wager of at least $5.
But that's not all. FanDuel goes the extra mile to enhance your betting experience by sending a unique promo code to your email. This code grants you a complimentary 3-month free trial subscription to the coveted NBA League Pass, providing exclusive access to some of the most thrilling basketball action.
The beauty of this bonus lies in its flexibility. It can be used across all sports markets, affording you the freedom to bet on your favourite sports and teams, making every sporting event all the more exhilarating. FanDuel has one of the best sports betting bonuses in NJ, which welcomes new players with open arms and enticing rewards, setting the stage for an exciting sports betting journey that's bound to keep you engaged and entertained.

Promotions for Existing Players
Unlike its casino bonus counterpart, most FanDuel Sportsbook promotions are time-specific, evolving in response to the current sports leagues and events. Nevertheless, there are several exciting promotions available for existing players.
NBA League Pass: By placing a minimum $5 wager, you can unlock a 3-month free trial subscription for the NBA League Pass. To participate in this bonus, simply opt in manually through the promotions page and place the qualifying bet.
Same Game Parlay: FanDuel offers a 50% Profit Boost Token that you can use on same-game parlay bets with over 3 legs. This promotion enhances your potential winnings and adds excitement to your parlay bets.
Daily Special Promotions: FanDuel presents daily-changing promotions that include odds boosts and profit boosts, among other enticing offers. Examples of such promotions include the Sunday Funday and the 50% Gronk Spike Monday Night Profit Boost. These ever-evolving deals keep your sports betting experience fresh and rewarding.
NFL Shuffle'Em: With this unique promotion, players can claim a random card featuring three combinations of player props and teams. If you correctly select all the options, you'll have a chance to win a share of the $25,000 pool prize. This interactive promotion adds an exciting element of chance to your NFL betting experience.
Banking Options
FanDuel Sportsbook simplifies the banking process with a variety of user-friendly options. Most deposits are free, but methods like PayNearMe and FanDuel Prepaid Card come with a $3.99 and $5 deposit fee, respectively. For withdrawals, various choices are available, although withdrawal processing times are typically longer than deposits. It's worth noting that FanDuel Sportsbook doesn't impose transaction fees, but be aware that your chosen payment gateway may have its fees. This comprehensive approach to banking ensures flexibility and caters to the diverse needs of FanDuel users, making both deposits and withdrawals a straightforward and accessible part of the sports betting experience.
| | | | |
| --- | --- | --- | --- |
| Payment Option | Min Deposit | Min Withdrawal | Processing Time |
| Credit/Debit Card | $10 | $25 | 24 Hours |
| PayPal | $10 | $25 | 48 Hours |
| FanDuel Prepaid Card | $10 | $25 | 24 Hours |
| Venmo | $10 | $25 | 48 Hours |
| Apple Pay | $10 | $25 | – |
| Gift Card  | $10 | – | – |
| PayPal | $10 | $25 | – |
| Online Banking | $10 | $25 | 3-5 Business Days |
| PayNearMe | $10 | – |   |
| Check | $10 | $25 | 14 Business Days |
| Wire Transfer | $2,000 | $10,000 | 24 Hours |
| Cash at Counter | $10 | $25 | 1-48 Hours |
FanDuel NJ Payment Methods
Customer Support
Given how relatively new sports betting is in New Jersey, FanDuel recognizes the importance of efficient customer support. They offer users a comprehensive resource through informative articles and an extensive FAQ section, covering topics from managing sports betting accounts to understanding promotions and facilitating deposits and withdrawals. 
Additionally, FanDuel provides responsive support options, including standard email support with a typical response time of 12 to 24 hours and a dedicated 24/7 live chat support feature accessible by clicking the "Chat with an Expert" button. For faster inquiries and quick responses, FanDuel's active presence on social media platforms like Twitter and Facebook ensures that users receive assistance within about one hour. However, it's important to note that their X and Facebook support operates between 8 AM and 12:30 AM ET daily, while the 24/7 live chat ensures round-the-clock accessibility for users.
FanDuel Sports Markets & Betting Options
FanDuel offers an extensive range of sports markets, totalling over 15, to cater to various sports bettors. These markets encompass popular sports like football, baseball, basketball, and tennis, ensuring that fans of mainstream athletics can place their bets. But FanDuel goes a step further, welcoming wagers on international, national, and collegiate sports events. However, it's essential to note that NCAA teams in New Jersey are excluded from betting.
What sets FanDuel apart is its inclusion of specialty sports like American football, motorsport, snooker, and lacrosse, among others. This wide variety ensures that even fans of less mainstream sports can engage in thrilling sports betting, making FanDuel a versatile and inclusive platform for all types of sports enthusiasts.
Below are some sports you can bet on at FanDuel
Aussie Rules

Baseball

Basketball 

Boxing

Cricket

Cycling

Darts

Football
FanDuel Sportsbook App Betting Options
FanDuel Sportsbook excels not only in the variety of sports it covers but also in the comprehensive list of betting options it offers players. What's truly exciting about these betting types is their inclusivity, catering to everyone, from beginners to casual bettors and seasoned high-stake gamblers.
FanDuel is one of the few NJ Sportsbooks that provide the same game parlay option. This feature not only enhances flexibility but also minimises risk, allowing bettors to hedge their wagers effectively. Here's a rundown of the betting options you'll find at FanDuel:
Moneyline

Totals

Over/Under

Parlays

Teaser Beat

Spreads

Rounds Robin

Prop Bet

Futures
No matter how many bets you wish to place, FanDuel has a user-friendly bet slip section to help you organise them for easy reference. Additionally, the bet slip incorporates a sports betting calculator that automatically calculates your potential winnings based on the current odds. This user-centric approach ensures that FanDuel caters to the diverse needs and preferences of all sports betting enthusiasts.
Live Betting
FanDuel Sportsbook excels in live betting, ensuring you're always in on the action. This in-play feature lets you bet on ongoing games, covering international, national, and college sports markets. FanDuel makes it easy to navigate live odds changes by highlighting them in red and blue.
A unique feature of FanDuel Sportsbook in-play bet is the cashout option, which allows you to exit a bet early, recovering part of your stake if the game isn't going as planned. This feature helps manage potential losses.
FanDuel goes beyond live betting; it offers free live streaming, allowing you to watch the games you're betting on in real-time. The best part? You don't need to place a bet to access the live stream, making it an invaluable tool for staying engaged with the sports you love. FanDuel's live betting and streaming enhance your sports betting experience, keeping you on the edge.
Parlay Hub
FanDuel introduces an innovative feature known as the Parlay Hub, streamlining the process of placing parlay bets with a single touch. This functionality caters to bettors with limited time to research or find multiple events. It offers a selection of trending parlay bets, presenting them for your convenience.
The Parlay Hub also provides a valuable forecasting tool, offering insights into potential winnings based on a $10 stake. Additionally, it offers a brief overview of all the selected events and their corresponding total odds. FanDuel's Parlay Hub simplifies the parlay betting experience, making it accessible and convenient for users looking to maximise their bets without the need for extensive research and selection.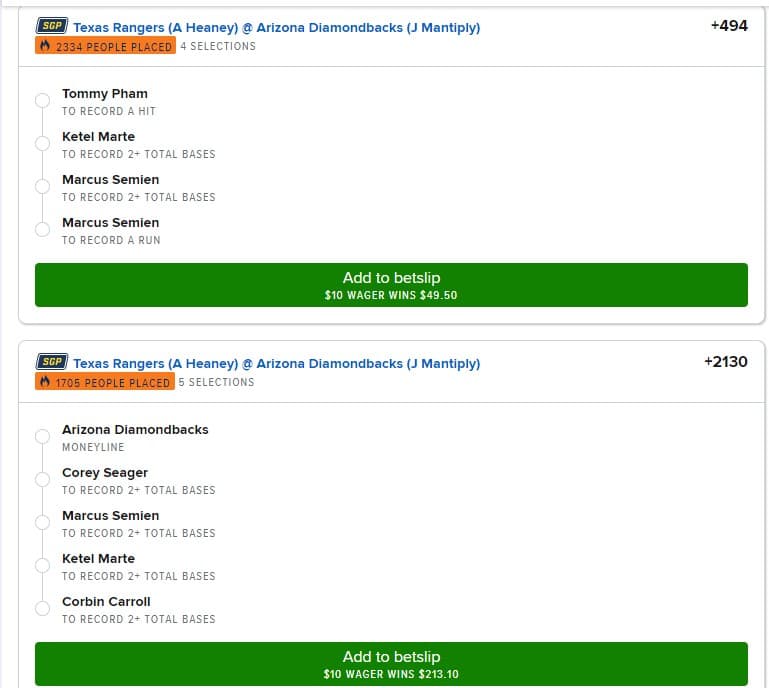 Odd Boosts
Odd Boosts at FanDuel Sportsbook introduce an element of excitement and enhanced value to your sports betting endeavours. Available across all sports markets, this feature offers bettors the chance to capitalise on boosted odds for specific events, ultimately amplifying the potential returns on their wagers.
One noteworthy aspect is FanDuel's commitment to transparency. Alongside the boosted odds, it also displays the initial odds. This dual presentation not only gives you a clear view of the favourable changes to your potential winnings but also reinforces the platform's dedication to providing users with all the information they need to make informed betting decisions.
FanDuel Odds
FanDuel Sportsbook has one of the most competitive odds among legitimate NJ sportsbooks. With its cutting-edge system, it's at the forefront of providing early odds to players, offering invaluable insights into upcoming games. 
Given its popularity, FanDuel's odds consistently measure up to other reputable bookmakers, such as DraftKings. Our research highlights that FanDuel excels in providing some of the best underdog odds, making it a standout choice for those seeking value bets.
FanDuel's commitment to inclusivity extends to the diversity of bet types, ranging from moneyline and spread bets to parlays and prop bets. Moreover, the platform's user-friendly display of odds in American, Decimal, and Fractional formats ensures that users can select the format most comfortable for their reading, further enhancing the overall betting experience.
Verdict
FanDuel Sportsbook is unquestionably among the finest bookmarkers in New Jersey. With its extensive array of betting options across dozens of sports markets, FanDuel offers an exhilarating experience to all bettors. The user-friendly mobile app adds to the allure, ensuring quick access to your favourite sports events. Moreover, the available bonuses give players added leverage, enhancing their potential payouts. This comprehensive sportsbook sets the stage for an immersive sports betting journey that keeps bettors engaged and entertained.
FAQ
Is FanDuel Sportsbook NJ legit?

Yes, FanDuel Sportsbook in New Jersey is a legitimate and fully licensed sports betting operator. It is regulated by the New Jersey Division of Gaming Enforcement, ensuring a secure and trustworthy betting environment.

Can I bet on live sports on the FanDuel sportsbook app?

Absolutely. FanDuel Sportsbook offers live betting options, allowing you to place wagers on ongoing sporting events. You can enjoy in-play betting across various international and national sports markets.

What is the FanDuel Sportsbook bonus?

FanDuel welcomes new players with a generous $150 sportsbook bonus bet. To claim this bonus, you must make a minimum deposit of $10 and place a wager of at least $5. Additionally, a special promo code sent to your email grants you a 3-month free trial subscription to the NBA League Pass.

How can I contact FanDuel Support?

FanDuel offers multiple support channels, including standard email support, with a typical response time of 12 to 24 hours. You can also access 24/7 live chat support by clicking the "Chat with an Expert" button. FanDuel is active on social media platforms like Twitter and Facebook, where you can expect responses within about one hour. However, please note that the X and Facebook support is available from 8 AM to 12:30 AM ET daily.

Does FanDuel accept college sports betting?

Yes, FanDuel Sportsbook accepts bets on collegiate sports. However, it's important to note that it only accepts bets on NCAA teams located outside New Jersey.