A Breakdown of Online Versus Off-Line Sports Betting
February 9, 2021
115 Views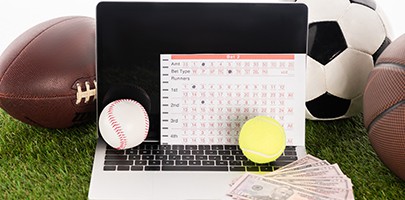 For generations, only brick-and-mortar locations offered sports betting. Thanks to mobile platforms and the Internet, however, online sports betting has exploded! The sports betting industry has therefore seen a major increase like never before. That said, there are key differences between betting on sports online and in betting on sports in person.
The Availability of Sports
It makes sense that online sports betting provides more opportunity for sports betting simply due to its access. Betting online makes more sports available for people to bet on because the Internet's reach is wider.
Line Shopping and Sports Betting
Online sports betting lends itself well to line shopping, as it gives bettors a better chance of maximizing their winnings.
The Convenience of Online Sports Betting
Historically, sports betting was only able to take place in brick-and-mortar casinos, making it quite the ordeal to take part in. These days, online sports betting allows bettors to do everything from the comfort of their own home, making the process easier and significantly more convenient.
Distraction-Free Betting Settings
While being at a racetrack or sports book may be fun, the distractions could cost you your winnings. Betting at home takes that out of the equation and allows the bettor to focus on just betting.
Deposits and Withdrawals
With in-person, off-line betting, people often don't give much thought to the number of deposit options from which to choose. Credit cards and cash are typically the only forms of acceptable payment. With online betting, however, deposit options include wire transfers, bitcoin, PayPal, checks, and credit cards are more.
For withdrawals, however, off-line betting tends to have more advantages over online.
Rewards and Bonuses
Sports betting sides tend to offer a variety of awards and bonuses to attract bettors and steer them away from the competition. Some may even offer free plays. These types of freebies are seldom to none at brick-and-mortar sports books.
Higher Payouts
Online sites tend to have fewer expenses than off-line sites when it comes to sports betting. It therefore only makes sense that sports betting websites tend to offer higher payouts on various types of wagers.
Resources
Off-line sports betting doesn't hold a candle to the number of resources available to online bettors. From a library of news articles to trends to sports data and more, online gambling sites provide bettors with significantly more tools.  
Find Out More About Gambling Operators
So which option is the best for you: online sports betting or brick-and-mortar? If you love sports betting and are looking to find out about the best bonuses from online operators in New Jersey, Gambling-New Jersey can help!
We only showcase legal and licensed online casinos and gaming sites, all of which are compliant with New Jersey gambling laws. Find the operator that works best for you by exploring our resources today.